I know that Mummie's Nummies is a breastfeeding support blog and community.... BUT no breastfeeding journey would begin without a baby.... and no baby would begin without a pregnancy. Which is why I am happy to once again be teaming up with the authors of "
The Greatest Pregnancy Ever
", to introduce their latest book "
The Attachment Pregnancy: The ultimate guide to bonding with your baby
."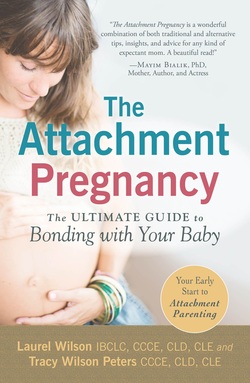 This book explains how the bond between Mummie and baby begins way before birth, before the first movement, before hearing the heartbeat for the first time. The bond can begin AT conception, when you first find out your pregnant. That you can begin to create an emotional connection with the little being that is growing within you, right away. For some women, this is easy. For others, it is a process. This book explains how to make that process easier, something ALL mothers can benefit from. Because if a mummie benefits from it.... so does their little one inside.
Every mother wants to feel deeply attached and bonded to their baby, and every mother and baby deserve to experience this. However, there is more to achieving a deep and lasting bond with your baby than just having an understanding of what is happening to your body week by week during pregnancy. It is about fostering a deep spiritual and emotional attachment to your baby. This attachment is called the mother-baby bond and starts at the very beginning, from the moment of conception.

"Studies have shown that parents have more influence over their child, both emotionally and physically, during pregnancy and the first years after birth than at any other point in life. With The Attachment Pregnancy, you will learn how to use this important time to form a deeper connection and introduce your child to a loving environment—even before birth. Childbirth experts Tracy Wilson Peters and Laurel Wilson guide you through each stage of development with advice for providing consistent and nurturing care as your baby grows, so that you can ensure that every need is always met."
This book will provide information that is based on groundbreaking new research, which is proving many of the theories on attachment to be true. This book shares little-known facts that can forge a deep bond between mother and baby, which can lead to a healthier pregnancy and baby.
*Being conscious and aware of your thoughts, feelings, and beliefs can deepen the mother-baby bond and be beneficial to the health of your baby and your pregnancy.
*Reducing stress in pregnancy can positively affect your baby's development, emotional and mental health, disposition and personality, as well as her overall health.
*Eating mindfully and making positive lifestyle choices during pregnancy actually has a significant impact on your child's disease risk, brain development, and even her future personality.
*At no other time in the life of your child does the mother-baby bond have the power to influence who your child will be, both emotionally and physically, than during pregnancy and the first years of her life.
This book can give you the jump start on achieving YOUR mother-baby bond. Something EVERY mummie and baby deserve to have.
I am excited to announce we are giving away one copy of The Attachment Pregnancy to one lucky Mummie! So check out the rafflecopter thingy-majiggy, follow the entries and GOOD LUCK!
~Mummie